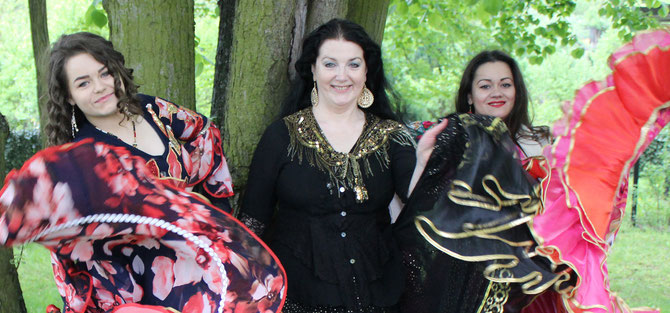 PHENJORIPE
       ANNA DĘBICKA,   KATJUSHA KOZUBEK,  
     NATALIA DĘBICKA / Oliwia Nowaczyk
Experience the magic of the legendary Eastern European Gypsy shows! Poetry, passion, charm, power, elegance, cascading colours, movement and music – it's PHENJORIPE!
The poetic show "My Earth, My Forest"  enchants you with song and dance of the Russian and Polish Roma to the poetry of Papusza Bronislawa Wajs!
GYPSY WINGS! Three full-blooded artists and soloists from TERNO, the polish Gypsy musical theater, celebrate the vibrancy of life together with guests. Come celebrate with us!
We offer performances for you in one of three constellations:  TRIO PHENJORIPE, PHENJORIPE ENSEMBLE or  PHENJORIPE & FRIENDS!
Additionally, we organize culture and dance workshops through DANCE SCHOOL Project in Berlin – or in your city before the performance. Dance culture as cultural dialogue! That's our passion!